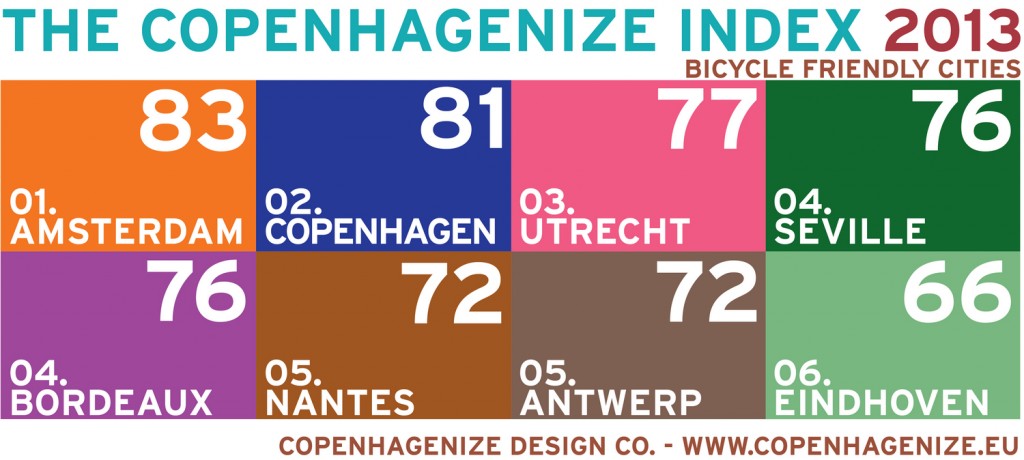 Eén van de meest opvallende zaken aan deze fietsrangschikking is dat de scores vanaf de 14de plaats al met de grens van 50% flirten. Er is dus nog heel wat werk aan de winkel aangezien bijna 130 van de 150 onderzochte steden gedoemd zijn tot een tweede zit. Maar wat ik me vooral afvraag, hoe zou Leuven scoren op deze test?
Ik zocht daarom even kort de criteria op. De komende week wordt het dus een kwestie van quoteren. Op elk van de vragen kan een stad een score tussen 0 en 4 krijgen. De totaalscore op 64 wordt op het einde naar een score op 100 herrekend. Tot slot kan een stad ook nog bonuspunten scoren. Dit voor extra inspanningen die niet in de 13 categorieën vallen.
Advocacy: (Leuven: 1/4)
How is the city's (or region/country) advocacy NGO(s) regarded and what level of influence does it have?
Rated from no organised advocacy to strong advocacy with political influence.
Bicycle Culture: (Leuven: 4/4)
Has the bicycle reestablished itself as transport among regular citizens or only sub-cultures?
Rated from no bicycles on the urban landscape/only sporty cyclists to mainstream acceptance of the bicycle.
Bicycle Facilities: (Leuven: 1/4)
Are there readily accessible bike racks, ramps on stairs, space allocated on trains and buses and well-designed wayfinding, etc?
Rated from no bicycle facilities available to widespread and innovative facilities.
Bicycle Infrastructure: (Leuven: 2/4)
How does the city's bicycle infrastructure rate?
Rated from no infrastructure/cyclists relegated to using car lanes to high level of safe, separated cycle tracks.
Bike Share Programme: (Leuven: 0/4)
Does the city have a comprehensive and well-used bike-sharing programme?
Rated from no bike share programme to comprehensive, high-usage programme.
Gender Split: (Leuven: 3/4)
What percentage of the city's cyclists are male and female?
Rated from overwhelming male to an even gender split or more women than men cycling.
Modal Share For Bicycles: (Leuven: 2/4)
What percentage of modal share is made up by cyclists?
Rated from under 1% to over 25%.
Modal Share Increase Since 2006: (Leuven: 1/4)
What has the increase in modal share been since 2006 – the year that urban cycling started to kick off?
Rated from under 1% to 5%+.
Perception of Safety: (Leuven: 3/4)
Is the perception of safety of the cyclists in the city, reflected in helmet-wearing rates, positive or are cyclists riding scared due to helmet promotion and scare campaigns?
Rated from mandatory helmet laws with constant promotion of helmets to low helmet-usage rate.
Politics: (Leuven: 2/4)
What is the political climate regarding urban cycling?
Rated from the bicycle being non-existent on a political level to active and passionate political involvement.
Social Acceptance: (Leuven: 4/4)
How do drivers and the community at large regard urban cyclists?
Rated from no social acceptance to widespread social acceptance.
Urban Planning: (Leuven: 1/4)
How much emphasis do the city's planners place on bicycle infrastructure – and are they well-informed about international best practice?
Rated from car-centric urban planners to planners who think bicycle – and pedestrian – first.
Traffic Calming: (Leuven: 3/4)
What efforts have been made to lower speed limits – for example 30 km/h zones – and generally calm traffic in order to provide greater safety to pedestrians and cyclists?
Rated from none at all to extensive traffic-calming measures prioritising cyclists and pedestrians in the traffic hierarchy.
Een snelle ronde punten toekennen resulteert in een score gelijk aan 42 op 100. Hierbij speelt wel een persoonlijke appreciatie van bepaalde maatregels mee. Dus aarzel niet om jouw puntenverdeling door te geven! Zelfs wanneer we bonuspunten toekennen voor het 2WD fietsprogramma van de KU Leuven, waarbij personeelsleden kunnen kiezen voor een fiets in plaats van een parkeerkaart, wordt het dus moeilijk om een voldoende te scoren. Er is dus werk aan de winkel om het peleton bij te halen en de komende 6 jaar een fietsstad te worden.
Tags:
fiets
,
leuven
You may also like this